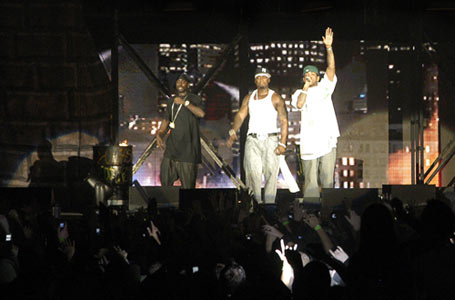 So 50′s Label is mad cus he went and leaked a sinle off his upcoming LP……What else is new. But read on…..
New York rapper 50 cent continues to make headlines this week in what has to be the most controversial week for G Unit since the alleged Tony Yayo/ Jimmy Henchmen incident earlier this year.According to numerous sources, 50 is now catching heat from Interscope Label heads after he leaked a track off his upcoming album, Curtis. The track, "She Wants It", which features Pop singer Justin Timberlake was released yesterday, July 5th on the web without Interscopes consent.
The Label has now launched a damage control campaign and has barred radio stations from playing the single as well as contacting numerous websites and bloggers demanding the song be removed. California hip hop station Power 106 has stated they will continue to play the newly released song despite being told not by Interscope reps.
Interscope explained their actions stating that they want 50 to focus on his latest official single, "I Get Money", a remix of the first track released from the album titled, "Straight to the Bank", and promote the debut of the newly filmed video